Arriving prompt at 830am there had been a new kitchen installed, ultra modern in grey with aluminum splash backs not unlike a kitchen in McDonalds. I'll admit i did love it, but i know my wife would have the house demolished if i put in a kitchen like that.
The floor sanded well, it was lovely and flat when i looked at the job which meant going through grades 40 – 60 – 80 -120 grit on my Lagla Trio would be more therapeutic than work, once the floor was perfectly sanded & every detail attended to i set about giving it a coat of primer.
Farrow & Ball primer is very good and an absolute pleasure to apply, effortlessly leaves no hard lines and blocks out everything in a single coat, I use a mow hair paint pad ,but a brush is just as good, but not as quick. Speed is the essence when using waterbased products as they dry so fast.




Once dry i applied a top coat, let that dry and de-nibbed by hand with a 120grit sanding disc, vacuumed and applied the final coat.
Looked amazing to be fair, almost like a space ship floor, the parquet pattern gave the rigid vision of a metal floor, I actually said to the customer It's lovely, the whole kitchen looks so space age, she replied, that's exactly what we wanted.
Fair play. was a pleasure.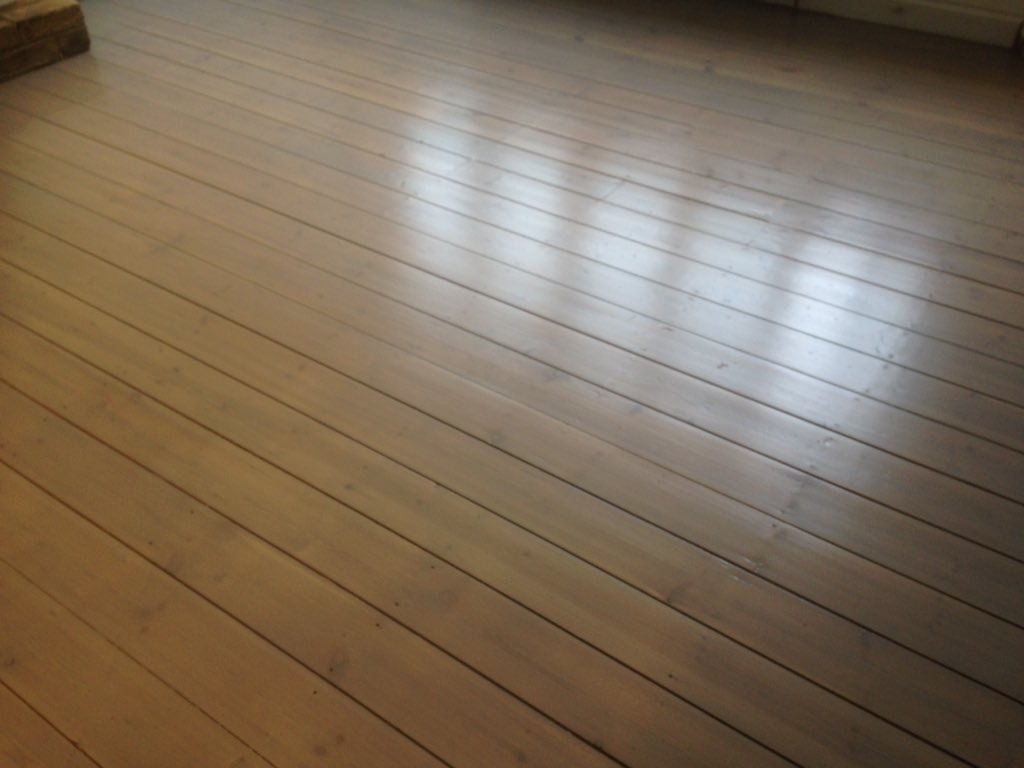 After that we started to get a lot of floor paint jobs in, not just grey,
The trend of now is Grey, tints & washes, it started about a year ago mainly on softwood floorboards deriving from the lye treatments city trends that the rich and famous are still wanting today, funnily enough Ive just received some grey lye which im itching to try on some oak. perhaps i'll be re-sanding some white soap floors and turning them grey real soon.
i usually prefer to create trends in varnish as it keeps time and costs to a minimum with the benefit of a very tough durable finish although i have done them in hardwax when specified
At some point i will reveal how i tint pine floor boards in many colours
Any questions? Join the site and post a comment or contact me here
Mark
– [ ]