Now i'm not going on scientific results here
i'm no chemist but i have been an end user for over 2 decades who's seen out the lives of many varnished floors and been called back to refinish (or re-sand & seal in most cases) the same floors a few years later.



Now manufacturers of many branded varnishes give 5-7 years on a single pack varnish & 7-12 years on Twin pack (extra strong varnish)
which in comparison to pre-finished laminated floors which manufacturers guarantee up to 25 years, it's really quite a poor lifespan, personally i feel 10-15 years would be better value in comparison to the price these manufacturers charge. so why don't they make them? Repeat sales, continued business is why, it just wouldn't make good business to make them too long lasting, which i think is a bit greedy. but there is a couple of varnishes i use that will outlast even the most expensive all singing all dancing varnishes and they are much easier to source.
I must say price wise they are almost on par with a high quality 2 pack varnish about £80 for 5 litres.
Up until a few years ago these varnishes were oil based and although extremely tough and water proof (unlike top branded polyurethanes that are only 97% water tight) they took too long to be feasibly used by a contractor, Nowadays however Dulux Diamond Glaze & Ronseal Diamond Hard are both water based, water proof and dry every bit as fast as there so called elite counter parts.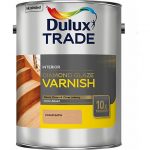 I doubt it's 10 times harder as it states on the tin but it's definitely a lot stronger has better scratch resistance and gives you every bit as nice finish, the only down point is they only come in satin or gloss, but it's a nice matt satin, ideal for dining rooms bathrooms and kitchens as they are waterproof and won't break down under water splashes and foot traffic in front of your sink, for a long while anyway.
Hate to say it but Ronseal Diamond Hard is available from Wickes and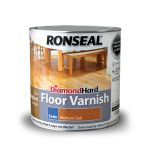 Diamond Glaze in B&Q.
Use it, its good stuff.